Relax and rejuvenate yourself
The wellness and yoga weeks take place throughout the months of Mai and June or September and October 2019. Yoga and well-being à la carte: compose your own yoga retreat. Start each morning with half an hour of yoga. Try the super smoothie and have a vegetarian dinner with Ron and Mariken when you feel like it. Twice a week you can join the Yoga class. Enjoy a relaxing massage by a professional masseur or spend an afternoon at the Spa in Neris les Bains. Everything is optional. The choice is yours!
3-Days Yoga Retreat
Do you want it more luxury and lots of yoga? Then book a three-day yoga retreat for 2 people: 3 nights, 3x 1:30 hour hatha yoga, 3x dinner, 3x breakfast for € 359 (furnished tent) € 439 (Pipowagen) € 469 (Gîte). Can be booked outside of school holidays.
7-days family yoga holiday
 From July 27 to August 10, 2019 you can book a yoga package for your family. The program consists of: 1 family yoga class and 2 Yin yoga classes by Sylvia Siegmund, 1 Hatha yoga class by Mariken, Pizza on arrival on Saturday, Jeu de boules evening with buffet and Canoeing with Ron. Total costs for a family of 4 people including 7 days stay in a furnished tent or vintage caravan on the campsite: € 775,- Stay in the Pipowagen € 900,-
You can also book this same package for the rest of the summer weeks but there will be no Yin Yoga classes from Sylvia, for the adults there will be just 2 Hatha yoga sessions with Mariken. Prices for 4 people € 755,- (tent or caravan) or € 880,- (gypsy caravan)
Green smoothie
Start the day with yoga: half an hour of yoga accessible to all and free!
Every morning you can order a fresh green smoothie freshly picked in the garden of Brénazet or ask us to make you a large breakfast.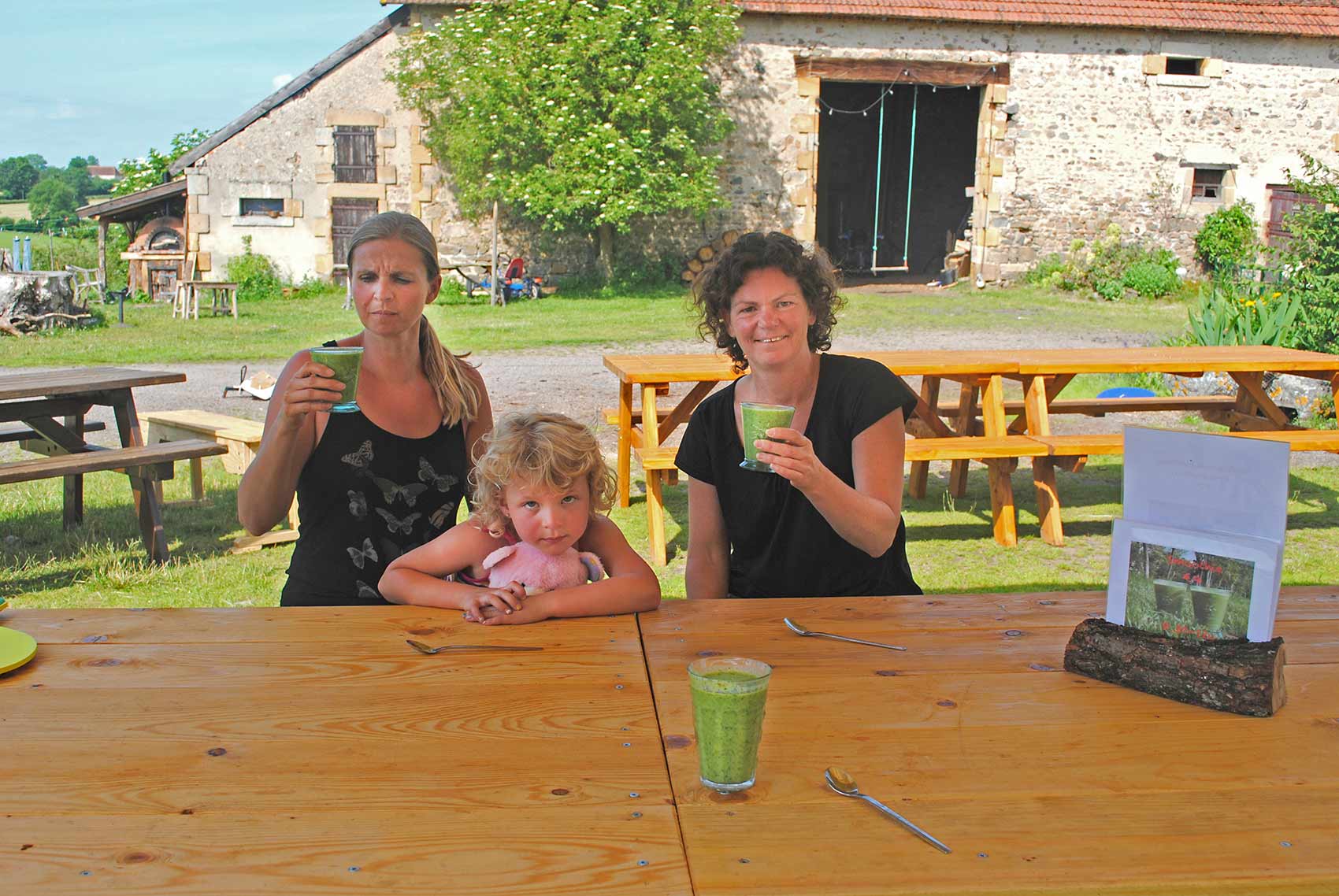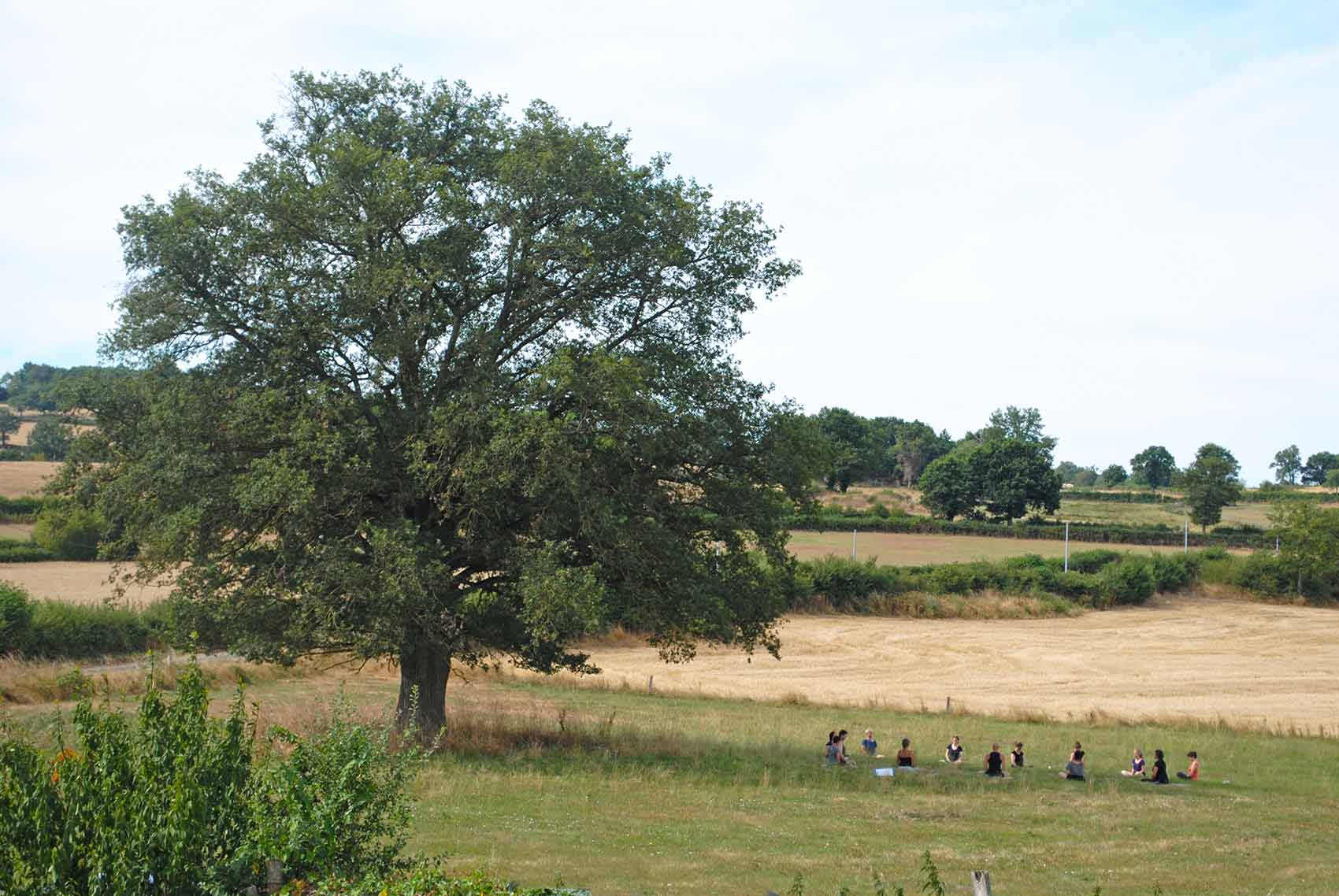 Yoga à la carte
In addition to the short daily morning session, there is a one-and-a-half hour Hatha Yoga class twice a week. Depending on the weather, yoga is given indoors or outdoors.
Table d' hôtes
 The dishes are vegetarian / vegan and organic. An evening at the table with Ron and Mariken and the other guests guarantees a pleasant evening. When it is too cool to eat outside, you will be welcomed in the authentic Brénazet farmhouse lounge.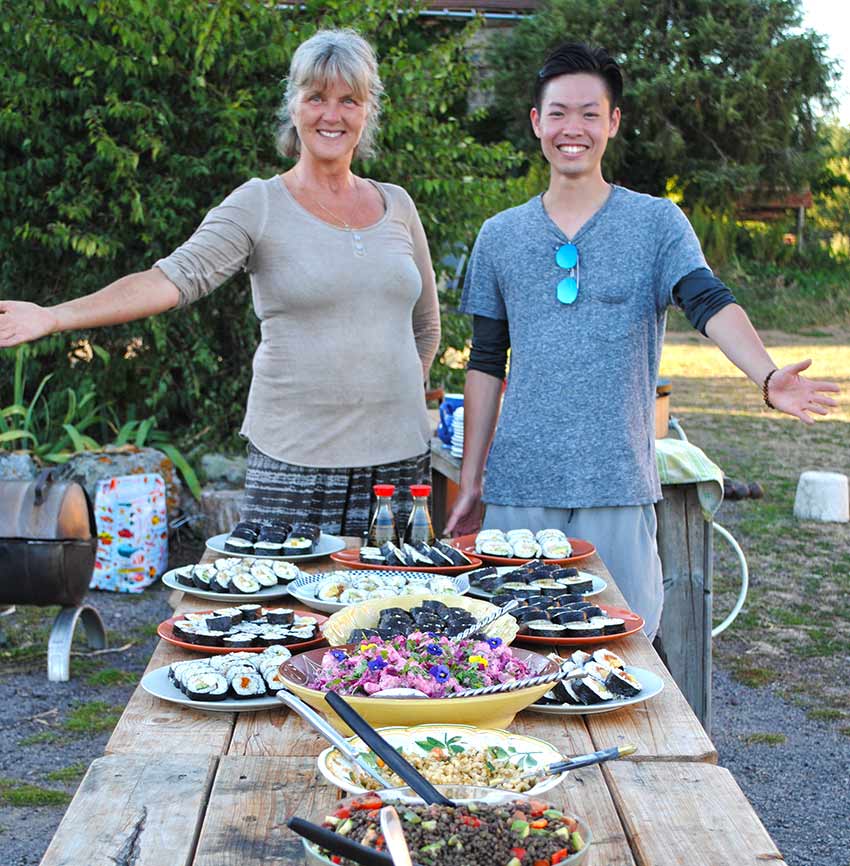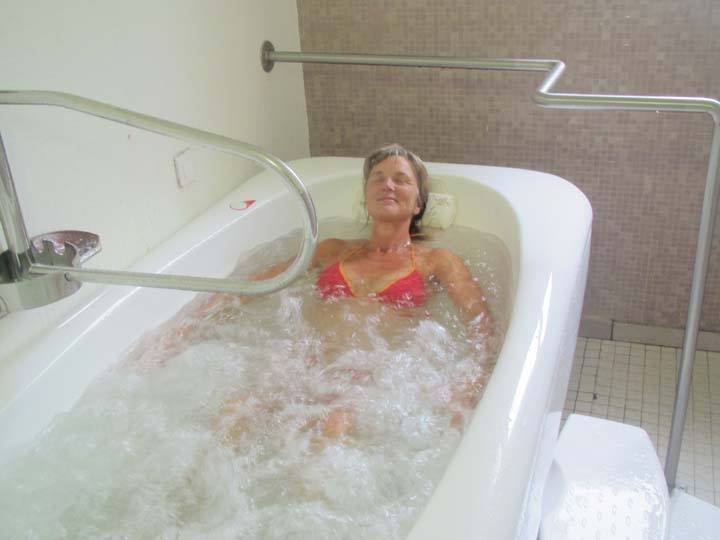 Massage at Brénazet
You can book yourself with Arno without obligation:
Arno van Haren
Tel / sms: (0033) – (0) 7 81 48 78 46
Tip: An afternoon of sauna, Turkish bath and hot water bath in La Nériade in Néris Les Bain. The swimming pool is filled with spring water that comes out of the ground at 53 ° and contains a lot of lithium.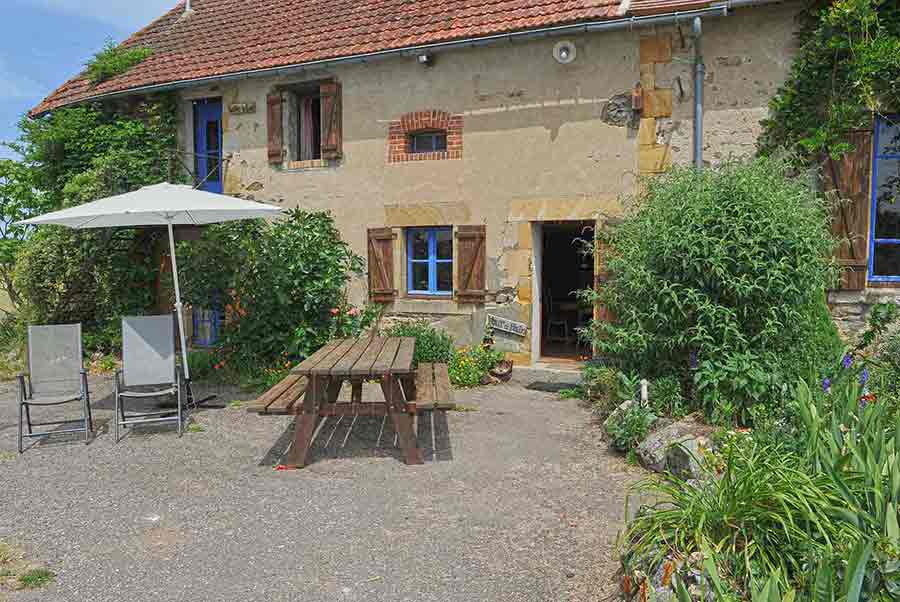 A holiday full of joy and adventure.
From the moment we arrived, we were warmly welcomed and encouraged to get involved in life at Brénazet as much or as little as we wanted. Mariken is a brilliant yoga instructor. Each yoga session was different. Each was relaxing and perfectly flowed. Every member of our family enjoyed them immensely. We were blessed with great weather so yoga was outdoors. Our stay in the Gypsy wagon was a cosy and happy one. We had everything we needed including our own kitchen and bathroom facilities. The beds were spacious and comfortable. There were 3 of us but 4 would fit easily. Every evening we sat on our decking area watching for shooting stars and listening to the owls. We ate some of the loveliest food, from "pizza, pizza, pizza" to homegrown salads and green smoothies.
Our 4 year old had the run of the place, making friends with kids and animals alike, jumping and swinging on the trampolines and hammock under the big walnut tree. Brénazet is a wonderful place for children to be children and grownups to switch off from digital distractions and join in the fun. Try the pony trekking for kids on the gentlest ponies, let Ron guide you on a river canoeing adventure and take a dip in the natural pool. This was a break we will be talking about for a long time.

Rebecca Dunne: 7-days Familie Holiday in august