Relax and rejuvenate yourself
The wellness and yoga weeks take place throughout the months of Mai and June or September and October 2019. Yoga and well-being à la carte: compose your own yoga retreat. Start each morning with half an hour of yoga. Try the super smoothie and have a vegetarian dinner with Ron and Mariken when you feel like it. Twice a week you can join the Yoga class. Enjoy a relaxing massage by a professional masseur or spend an afternoon at the Spa in Neris les Bains. Everything is optional. The choice is yours!
3-Days Yoga Retreat
Do you want it more luxury and lots of yoga? Then book a three-day yoga retreat for 2 people: 3 nights, 3x 1:30 hour hatha yoga, 3x dinner, 3x breakfast for € 359 (furnished tent) € 439 (Pipowagen) € 469 (Gîte). Can be booked outside of school holidays.
7-days family yoga holiday
 From July 27 to August 10, 2019 you can book a yoga package for your family. The program consists of: 1 family yoga class and 2 Yin yoga classes by Sylvia Siegmund, 1 Hatha yoga class by Mariken, Pizza on arrival on Saturday, Jeu de boules evening with buffet and Canoeing with Ron. Total costs for a family of 4 people including 7 days stay in a furnished tent or vintage caravan on the campsite: € 775,- Stay in the Pipowagen € 900,-
You can also book this same package for the rest of the summer weeks but there will be no Yin Yoga classes from Sylvia, for the adults there will be just 2 Hatha yoga sessions with Mariken. Prices for 4 people € 755,- (tent or caravan) or € 880,- (gypsy caravan)
Green smoothie
Start the day with yoga: half an hour of yoga accessible to all and free!
Every morning you can order a fresh green smoothie freshly picked in the garden of Brénazet or ask us to make you a large breakfast.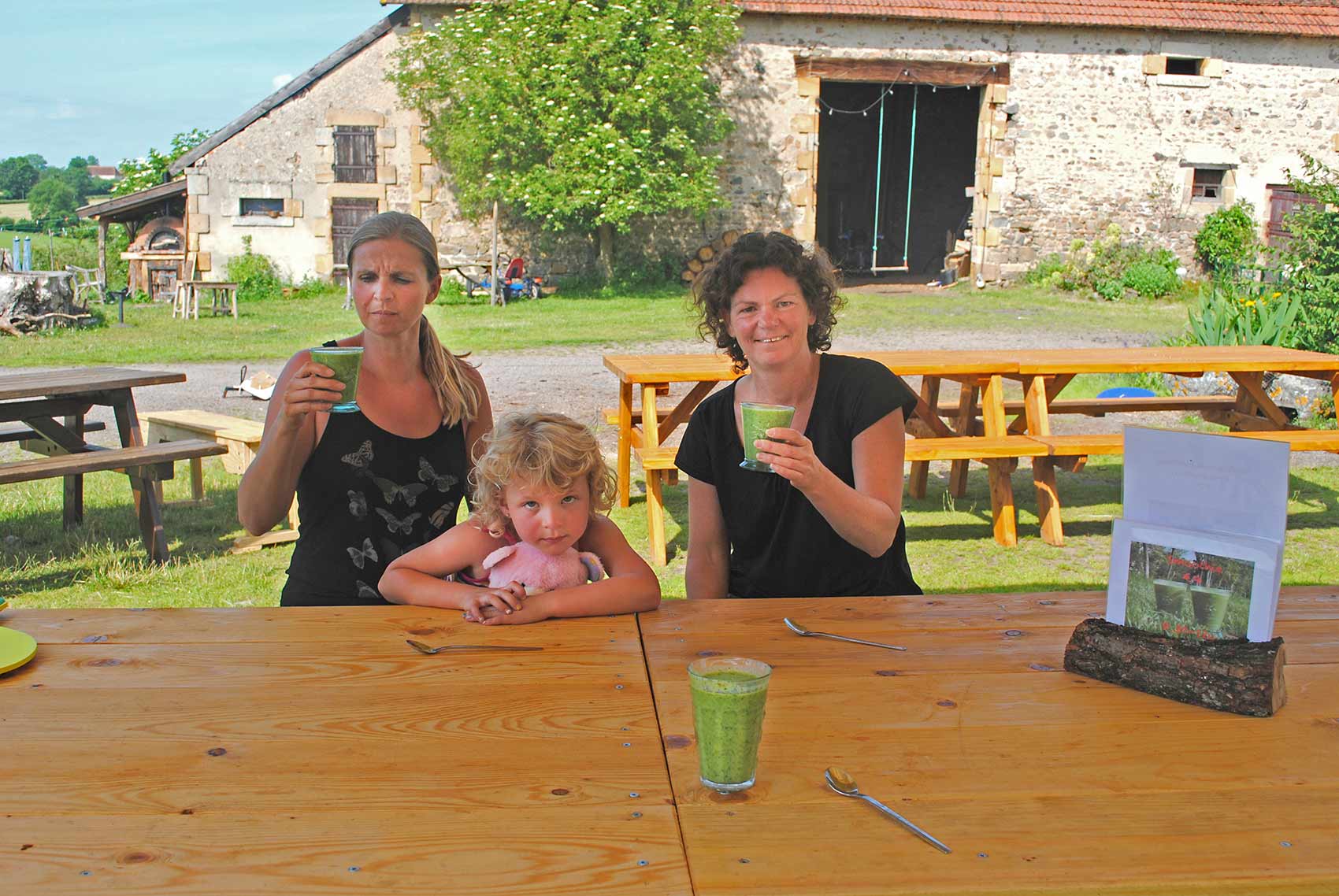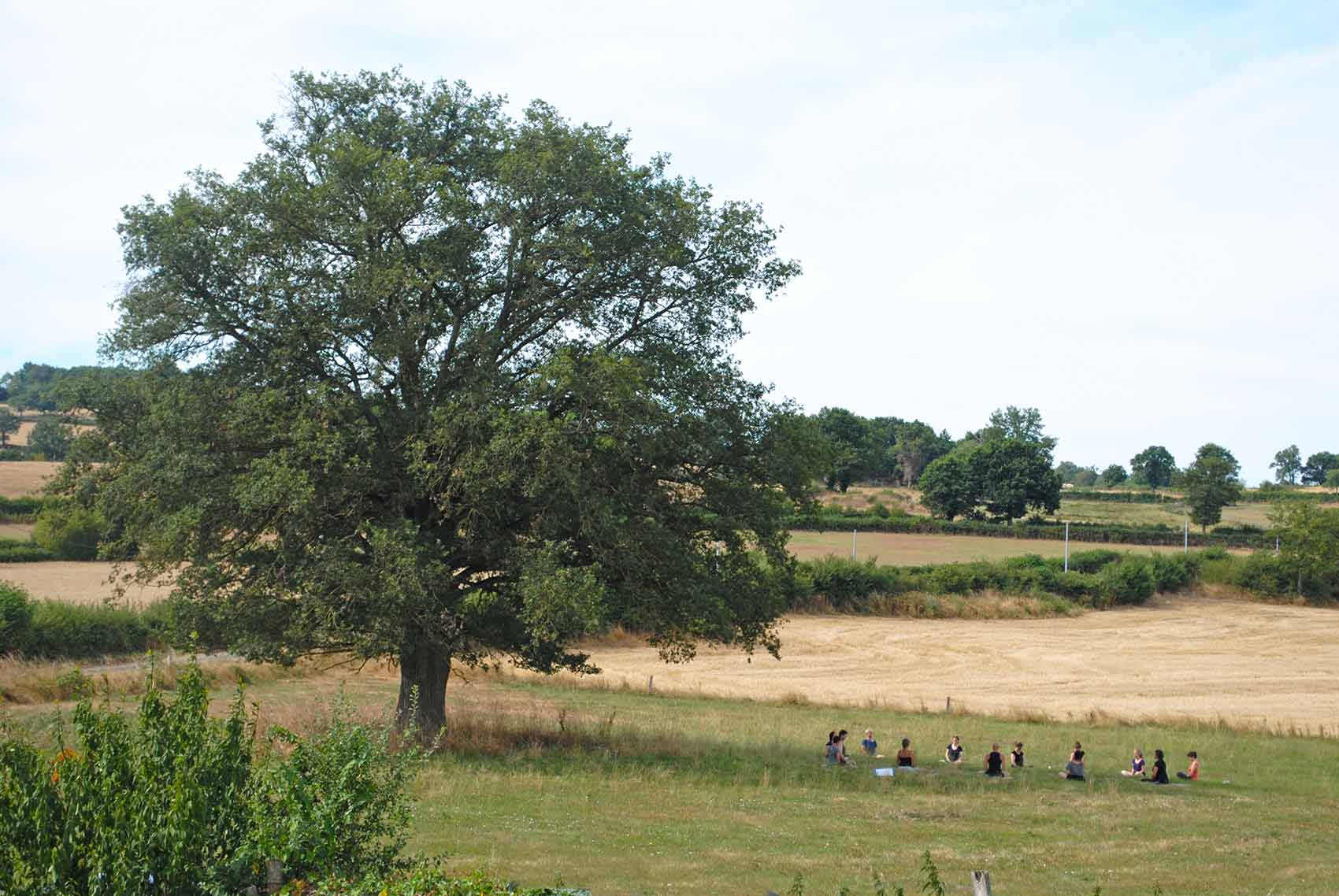 Yoga à la carte
In addition to the short daily morning session, there is a one-and-a-half hour Hatha Yoga class twice a week. Depending on the weather, yoga is given indoors or outdoors.
Table d' hôtes
 The dishes are vegetarian / vegan and organic. An evening at the table with Ron and Mariken and the other guests guarantees a pleasant evening. When it is too cool to eat outside, you will be welcomed in the authentic Brénazet farmhouse lounge.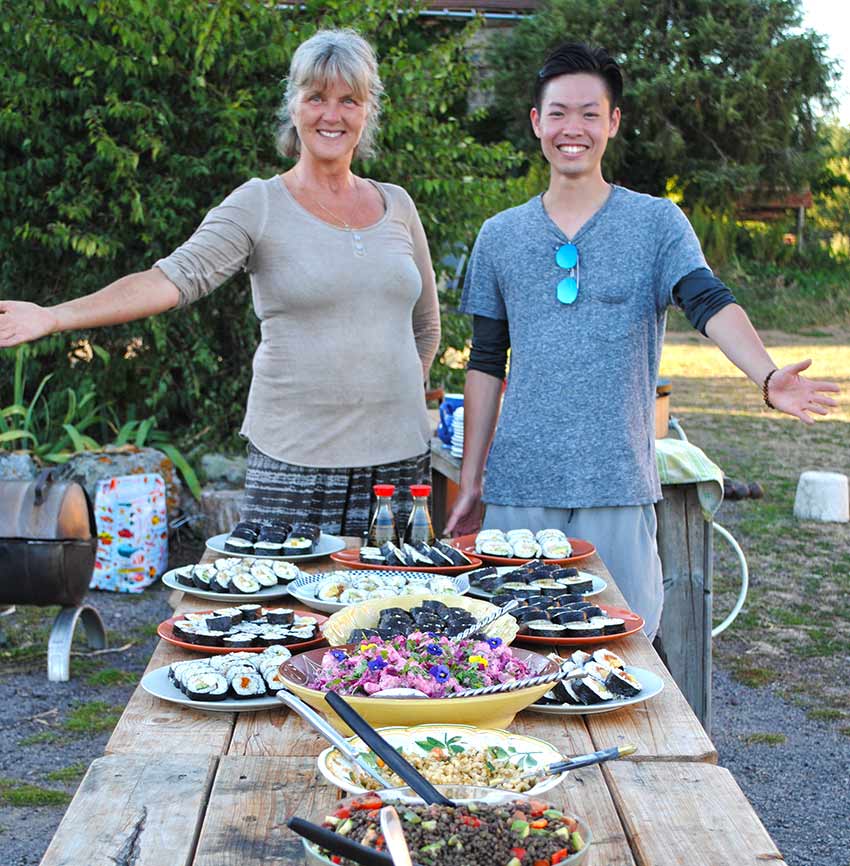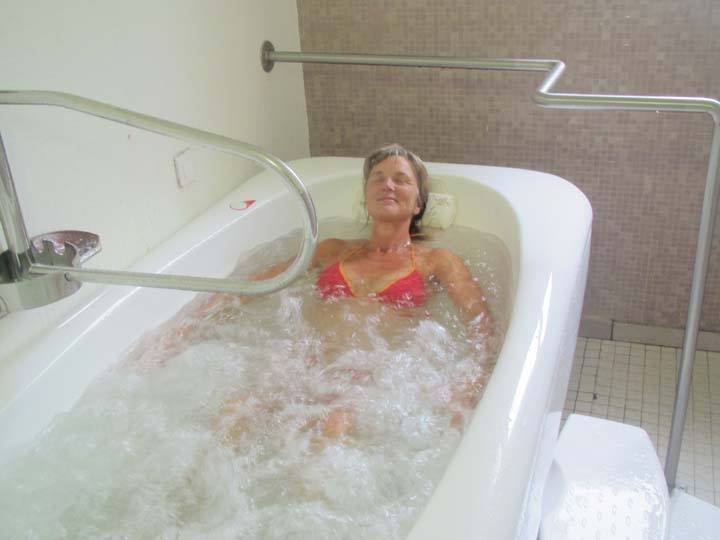 Massage at Brénazet
You can book yourself with Arno without obligation:
Arno van Haren
Tel / sms: (0033) – (0) 7 81 48 78 46
Tip: An afternoon of sauna, Turkish bath and hot water bath in La Nériade in Néris Les Bain. The swimming pool is filled with spring water that comes out of the ground at 53 ° and contains a lot of lithium.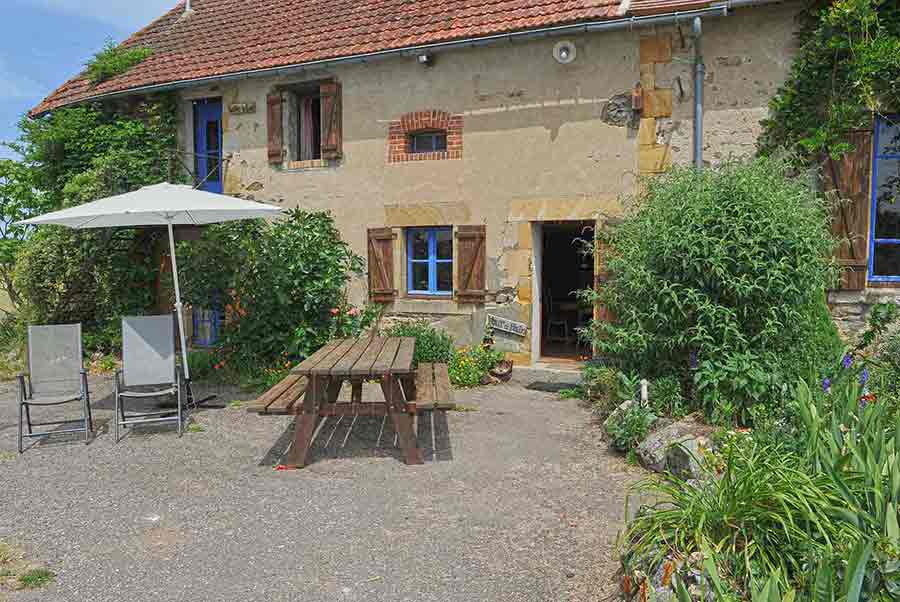 Nuit exceptionnelle dans un endroit magique. Mariken et Ron sont des hôtes adorables, attentionnés et authentiques. Le repas du soir et le petit déjeuner étaient super avec des produits bio et du jardin. En prime une séance de yoga par Mariken au matin… Nous reviendrons certainement!!!
Céline
Que dire si ce n'est que nous avons passé un merveilleux moment! Mariken et Ron sont des hôtes d'une grande gentillesse qui nous ont accueillis dans un cadre exceptionnel pour un séjour en famille. La roulotte est tout simplement magique, beaucoup de jeux à disposition des enfants, ils ont de plus pu monter les poneys et moi, assister à un cours de yoga. C'était un plaisir de discuter et les pizzas au feu de bois sur cette grande tablée ont fini de nous séduire. Nous reviendrons avec le plus grand plaisir, merci!
Lydie
Super accueil. Les hôtes ont été aux petits soins pour nous. Le chalet est très agréable et suffisamment spacieux pour 4 personnes et un gros chien ! Mention spéciale d'ailleurs pour l'accueil réservé à notre toutou ! Endroit idéal pour retrouver calme et sérénité…aucun bruit alentours, un bonheur ! Cadre parfait, les enfants se sont régalés avec les chevaux ! Merci !

Coline

Un lieu hors du temps et des sentiers battus, vous ne viendrez pas chez Marieke par hasard mais nous savons pourquoi vous y resterez! Superbe environnement et très belles personnes que nos hôtes…

Alice