Relax and rejuvenate yourself
Start each morning with one and a half hour of yoga. Try the super smoothie at breakfast and in the evening you are welcome for good vegetarian dinners with Ron and Mariken.  Enjoy a relaxing massage by a professional masseur or spend an afternoon at the Spa in Neris les Bains.
4-Days Yoga Retreat for 2
3 nights in the Gypsy caravan: € 499
3 nights in one of the cottages: € 549
Including in this package:
* accomodation for 2, including cleaning fee, sheets and towels
* 3x healthy breakfast
* 3x light lunch
* 3x vegetarian dinner
* 3x yoga class
* Bike rental 
Options:
*Massage
*Spa
*Horseback riding
Please book your flight to arrive at Clermont Ferrand. Public transportation is there, you can take a train (there are trains  about 3 times per day ) to Louroux de Bouble or Lapeyrouse where we can pick you up.
Can only be booked outside of school holidays.
Green smoothie
Bisides a large breakfast you can try our green smoothie freshly picked in the garden of Brénazet.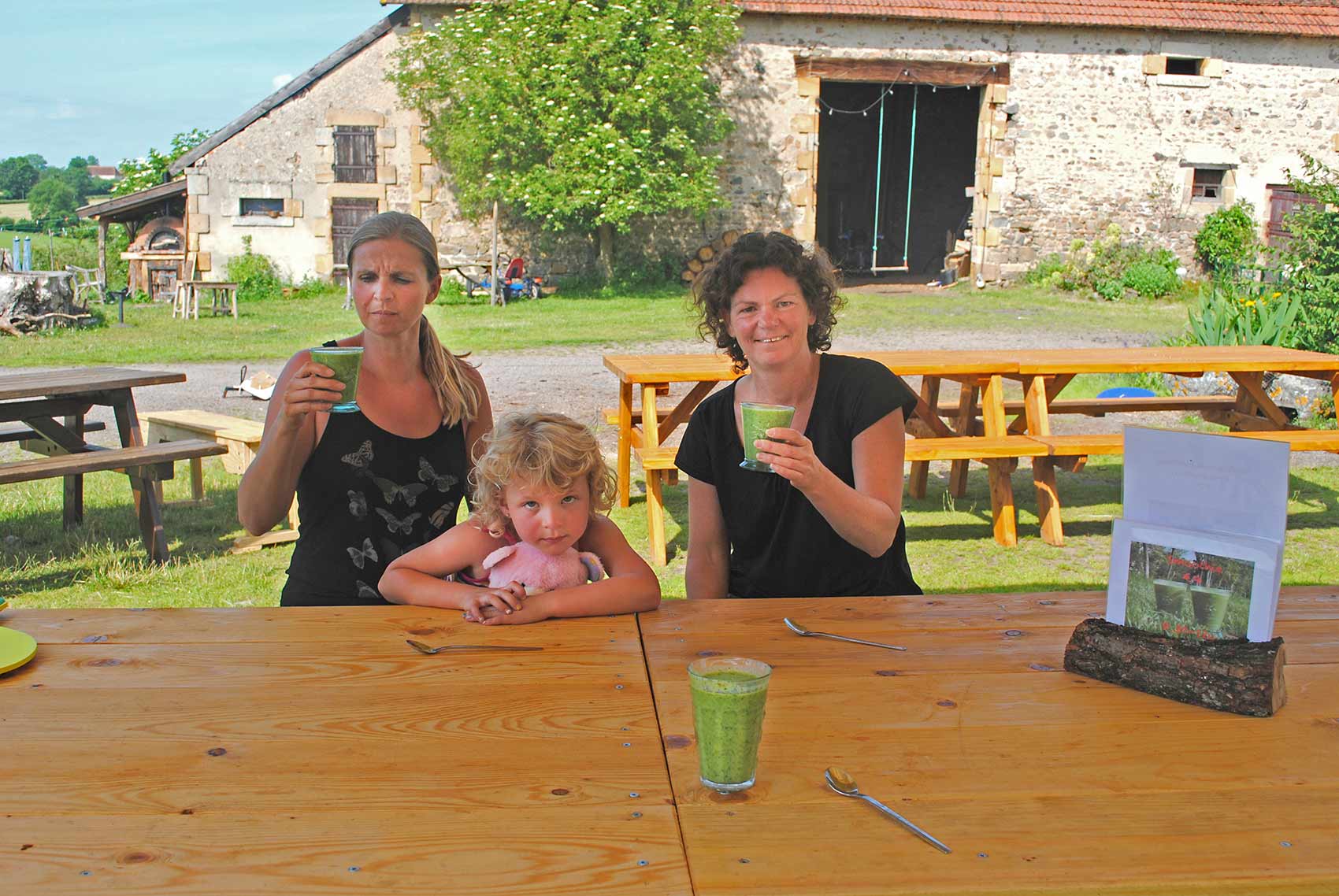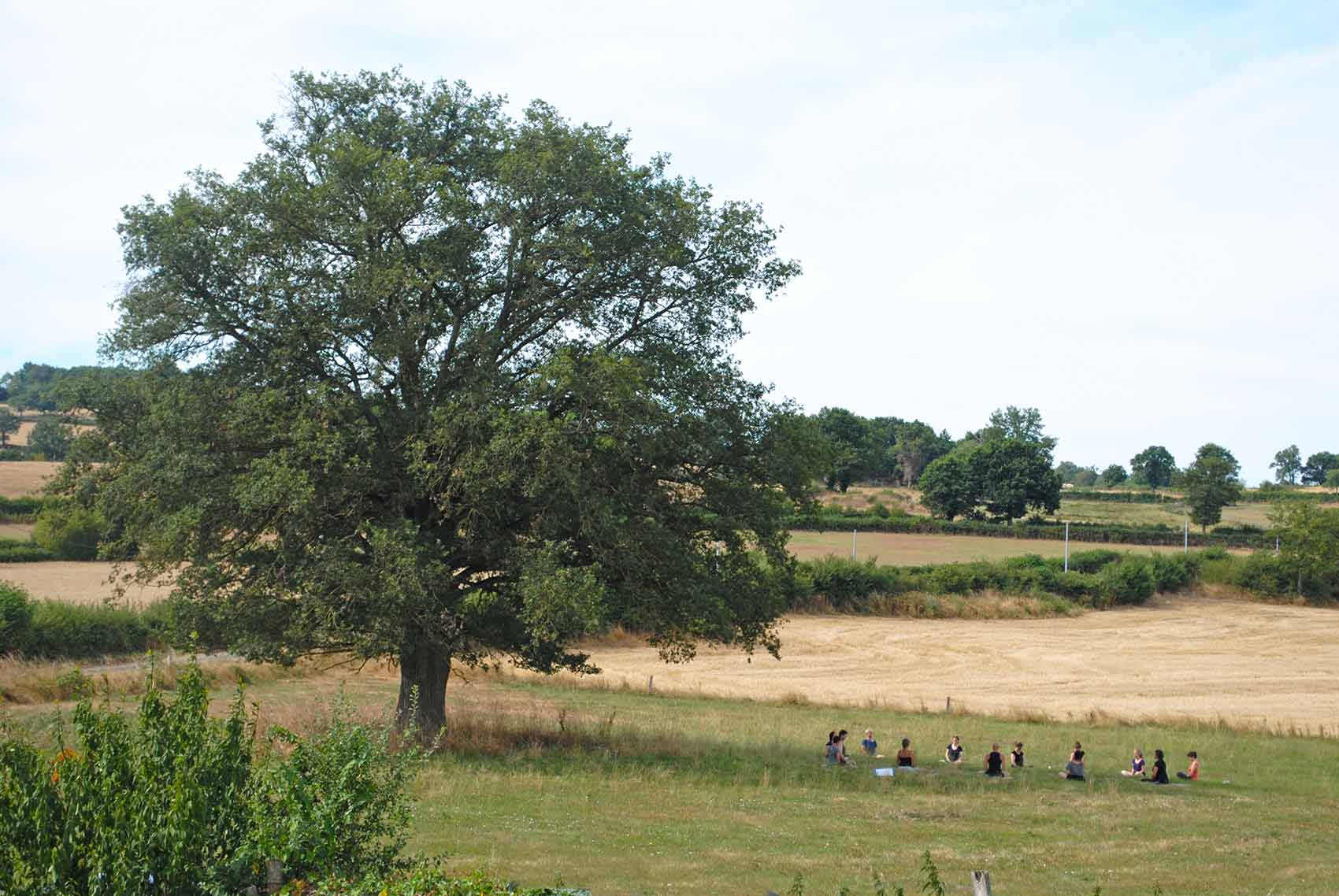 Yoga
There are 3 one-and-a-half hour Hatha Yoga classes. Depending on the weather, yoga is given indoors or outdoors.
Table d' hôtes
The dishes are vegetarian / vegan and organic. We will enjoy dinner outside or you will be welcomed in the authentic Brénazet farmhouse lounge.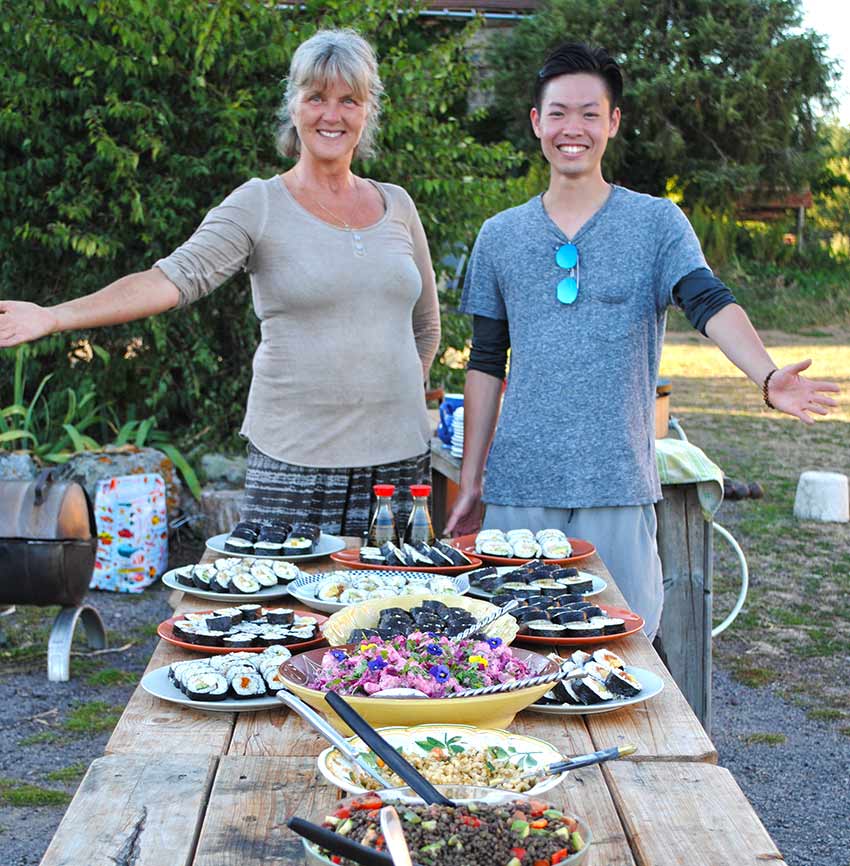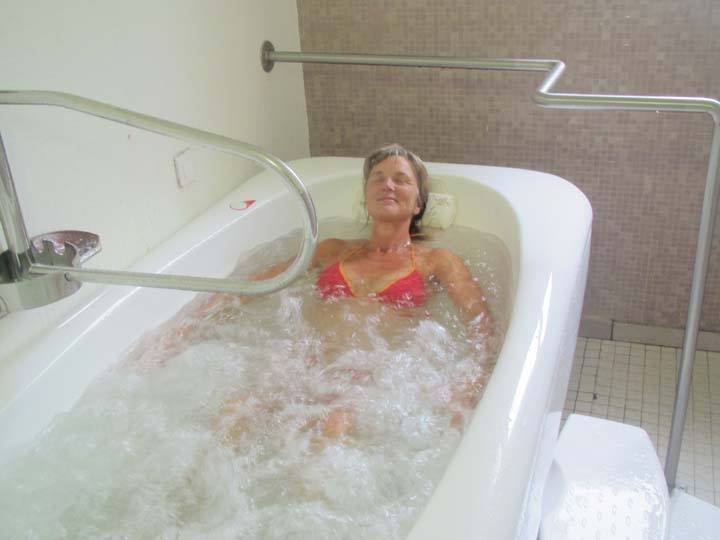 Massage and Spa
The masseur comes to Brénazet. I can book him for you or you can book yourself with Arno without obligation:
Arno van Haren Whats app: +31 624530279 or Tel/sms : +33 781 48 78 46
Tip: An afternoon of sauna, Turkish bath and hot water bath in Les Nériades in Néris Les Bain. The swimming pool is filled with spring water that comes out of the ground at 53 ° and contains a lot of lithium.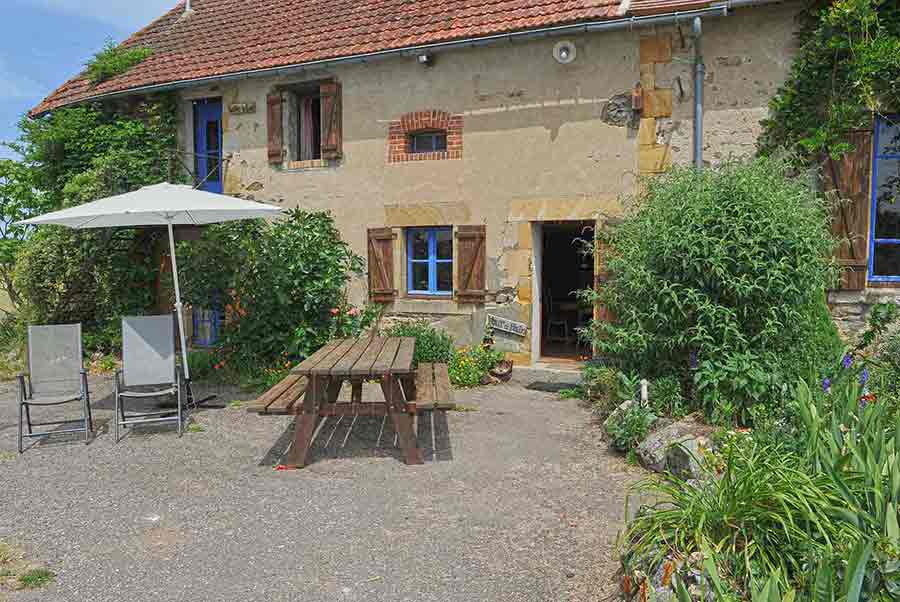 A holiday full of joy and adventure.
From the moment we arrived, we were warmly welcomed and encouraged to get involved in life at Brénazet as much or as little as we wanted. Mariken is a brilliant yoga instructor. Each yoga session was different. Each was relaxing and perfectly flowed. Every member of our family enjoyed them immensely. We were blessed with great weather so yoga was outdoors. Our stay in the Gypsy wagon was a cosy and happy one. We had everything we needed including our own kitchen and bathroom facilities. The beds were spacious and comfortable. There were 3 of us but 4 would fit easily. Every evening we sat on our decking area watching for shooting stars and listening to the owls. We ate some of the loveliest food, from "pizza, pizza, pizza" to homegrown salads and green smoothies.
Our 4 year old had the run of the place, making friends with kids and animals alike, jumping and swinging on the trampolines and hammock under the big walnut tree. Brénazet is a wonderful place for children to be children and grownups to switch off from digital distractions and join in the fun. Try the pony trekking for kids on the gentlest ponies, let Ron guide you on a river canoeing adventure and take a dip in the natural pool. This was a break we will be talking about for a long time.

Rebecca Dunne: 7-days Familie Holiday in august