Welcome at Brénazet
Welcome to our renovated authentic farmhouse! We offer you a quiet stay in the countryside. Located in the south of Allier, in the Auvergne-Rhône Alpes region, you will be surrounded by serene and natural landscapes, characteristic of this region.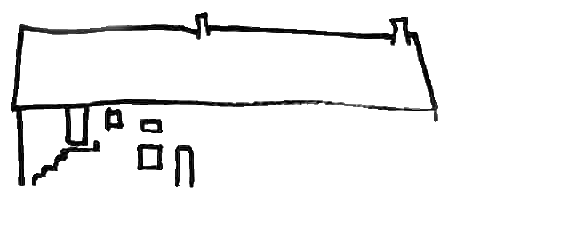 Address
 Brénazet, 03390 Vernusse, France
T: +33 470076319
T mob.: +33 607330743
The choice is yours, cottage, log cabin, gypsy caravan or camping
In the main building of the old farm there are 3 cottages facing the courtyard. At the edge of the campsite, under a large oak tree you find the Chalet. Beyond the natural pool, tucked in a corner of the campsite, is the romantic gypsy caravan. The Chalet and the gypsy wagon have well-chosen locations to give privacy, and both are equipped with private bathrooms.
Light living room with open kitchen.
A large bathroom, a bedroom with a double bed and a bedroom with two single beds. Private terrace on the west.
• Up to 5 people.
• Wide view.
• Private terrace
Large living room, open kitchen, spacious bathroom. Spacious bedroom with twin beds and loft with two single beds. Second bedroom has two single beds. Terrace on courtyard .
• Up to 7 people.
• Stays cool in the summer.
• Terrace on the courtyard.
Living room and open kitchen with access to two terraces. Bathroom, bedroom with twin beds and children's room with three bunk beds. Up to 5 people.
• Up to 5 people
• Two terraces
• Adapted for people with disabilities
Cosy log cabin. Dining room with kitchenette. Two single beds and a third height bed for children. On the loft a double bed. Private bathroom outside: shower, sink, dry toilet. Covered terrace.
Romantic caravan with a double bed and two single beds. Full kitchen, raised and spacious terrace with picnic table. The private bathroom with dry toilet, shower, and sink is in a separate building.
• Up to 4 people.
• Private bathroom
• Elevated terrace.
Small caravan from the seventies placed in the back of the campsite. Fully equipped for 4 people in a vintage style. 2 double beds, kitchen area. You'll have a nice view from the covered terrace.
• Up to 4 people.
• Cosy and quiet.
• Covered terrace.
In the orchard (1 ha) of the farm campers and caravans can settle and immerse themselves in nature. There are also 3 fully equipped tents on the campsite.
Children have a lot of space. Cars are parked directly outside the campsite. The bathroom has 2 showers, 2 sinks, 2 toilets and a urinal. There are 2 refrigerators, a microwave / oven and a washing machine available for campers. Bread service 6 times a week and we sell fresh eggs and homemade jams.
Ready for camping!
Furnished tents
Comfort and sociability
Camp with your own materiel
Aire Naturelle
Small campsite
We'll try to make your stay a wonderful experience. You could go on a guided canoe-expedition with Ron, fun for the whole family. Children can ride on a pony. Every week, we organize an evening of lawn bowling with buffet and pancakes. Saturday is the pizza party; our pizzas are very popular. Join us for a relaxing Hatha Yoga class or Kids Yoga class. It is also possible to book a relaxing massage.
Indulge yourself and choose from our packages: a fully organized week of adventures for families in spring. A 4-day Yoga retreat  together with your partner or a friend to rejuvenate. Or a family yoga holiday in in summer. The choice is yours. These holidays are suitable for families with children from 4 years. Discover the cosy atmosphere of Brénazet and its peaceful environment.
" This is a really beautiful place if you want to enjoy nature, animals and calmness. The hosts are very friendly and always willing to help. Their attitude towards our dog was touching. He didn't want to leave. It's a fantastic place to bring children, with countryside, animals, activities and the authentic way of life!"  Nora
" What a simple, beautiful and peaceful place to stay, hospitable people. We feel very relaxed after our stay."

Katrin
Summer at Brénazet
Sun, water, fun and good food 
Expedition canoeing with Ron
Disover nature from a canoe
Home made pizza's
Delicious pizza's from our wood-fired oven
Vegetarian dishes from Mariken
Delicious, fresh with an exotic touch