Hatha yoga (हठ hata, योग yoga) helps to control the mind and body. In the West, it is especially this form of yoga that we practice.
Hatha yoga helps us slow down and reduce stress. It has a beneficial effect on the nervous system, glands and other important organs and relaxes the body. The reason for doing yoga for most people is to improve health and well-being.
Rate
Adults, 12€50. Yoga for children, 7€50
During the summer holidays, there are classes on Sunday at 10:00, Tuesday and Friday mornings from 9:00 to 10:30. On Wednesday there is children's yoga or family yoga from 9 am to 10 am. Eventually a teen course at 10 am.
What can Yoga bring us?
We often react unconsciously to the many stimulus that drive us to react and judge. It costs us a lot of energy and we can often feel unsatisfied and exhausted.
Yoga will help you reduce stress and get in touch with yourself.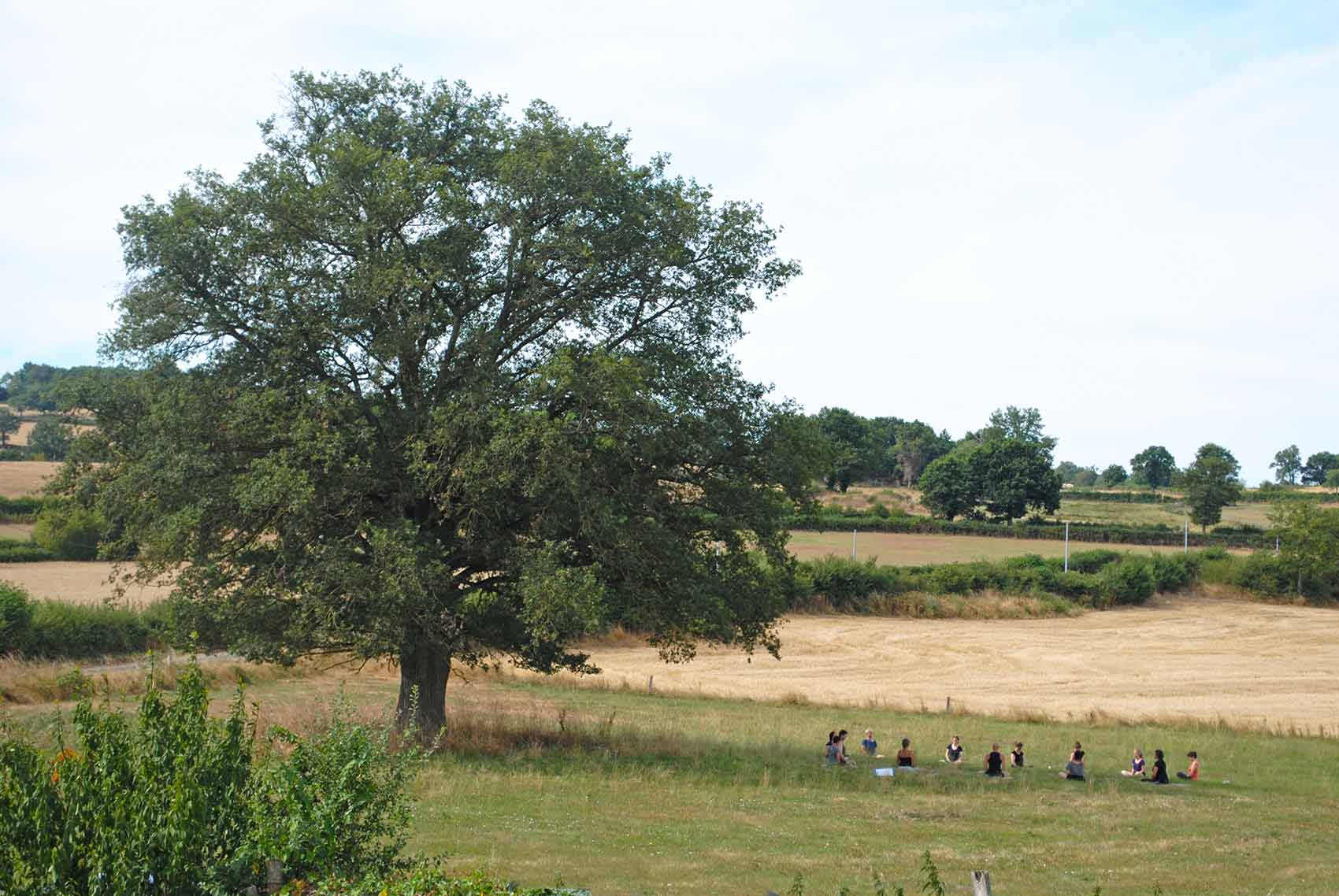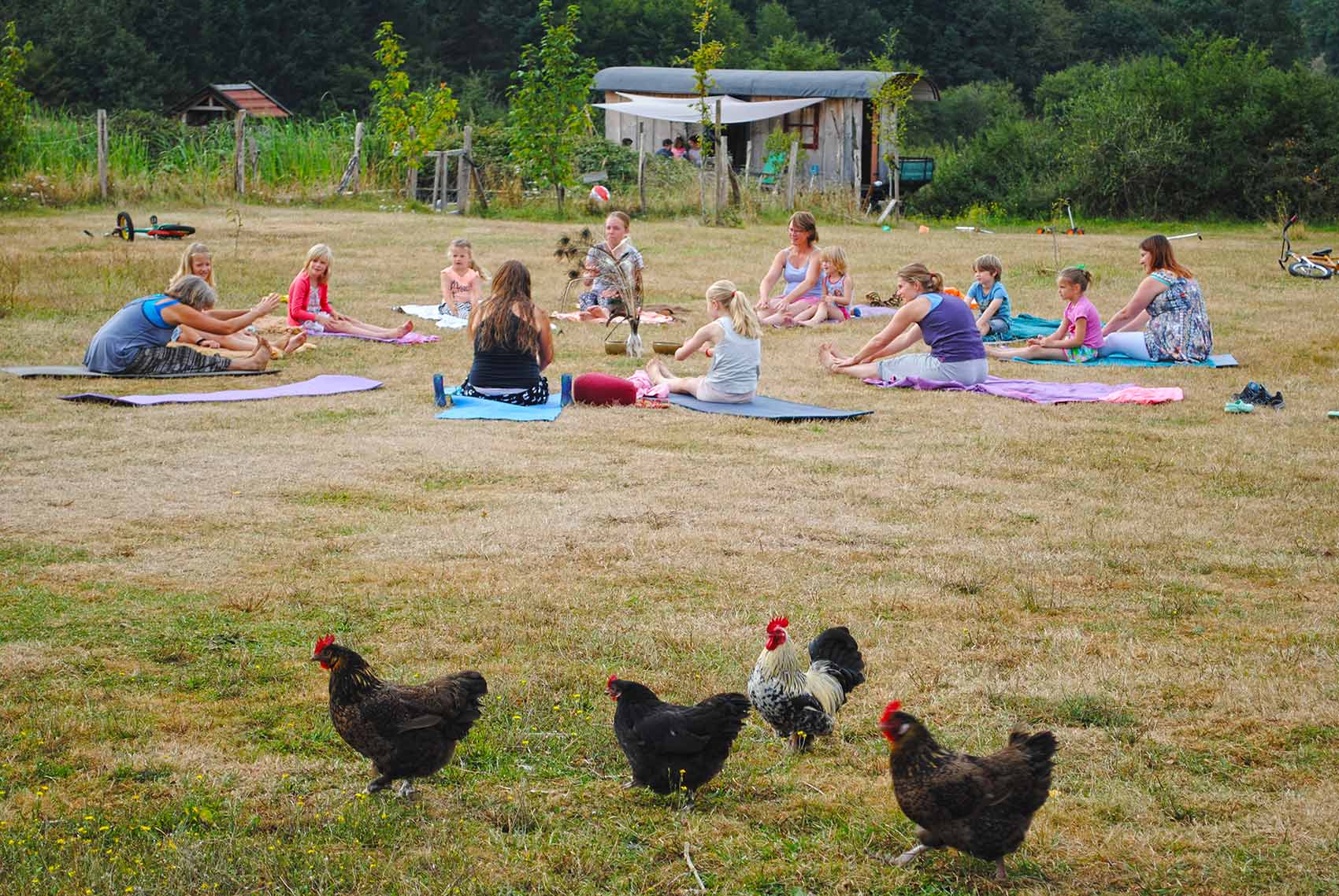 What is yoga?
A yoga session in Brénazet is composed of various exercises: karana (yoga postures that follow one another quickly, acting the flow of energy) and asana. With yoga postures, you relax your body and realize where the tension is. Yoga helps you relax deeply. At the end of a yoga class we will take 15 minutes to relax with the sounds of nature and Tibetan bowls.
Listening to your body
You learn to listen to your body. The breath establishes the connection between the body and the spirit. Breathing strengthens the effect of asana and helps to focus and maintain postures longer. In addition, breathing techniques are practiced: pranayama.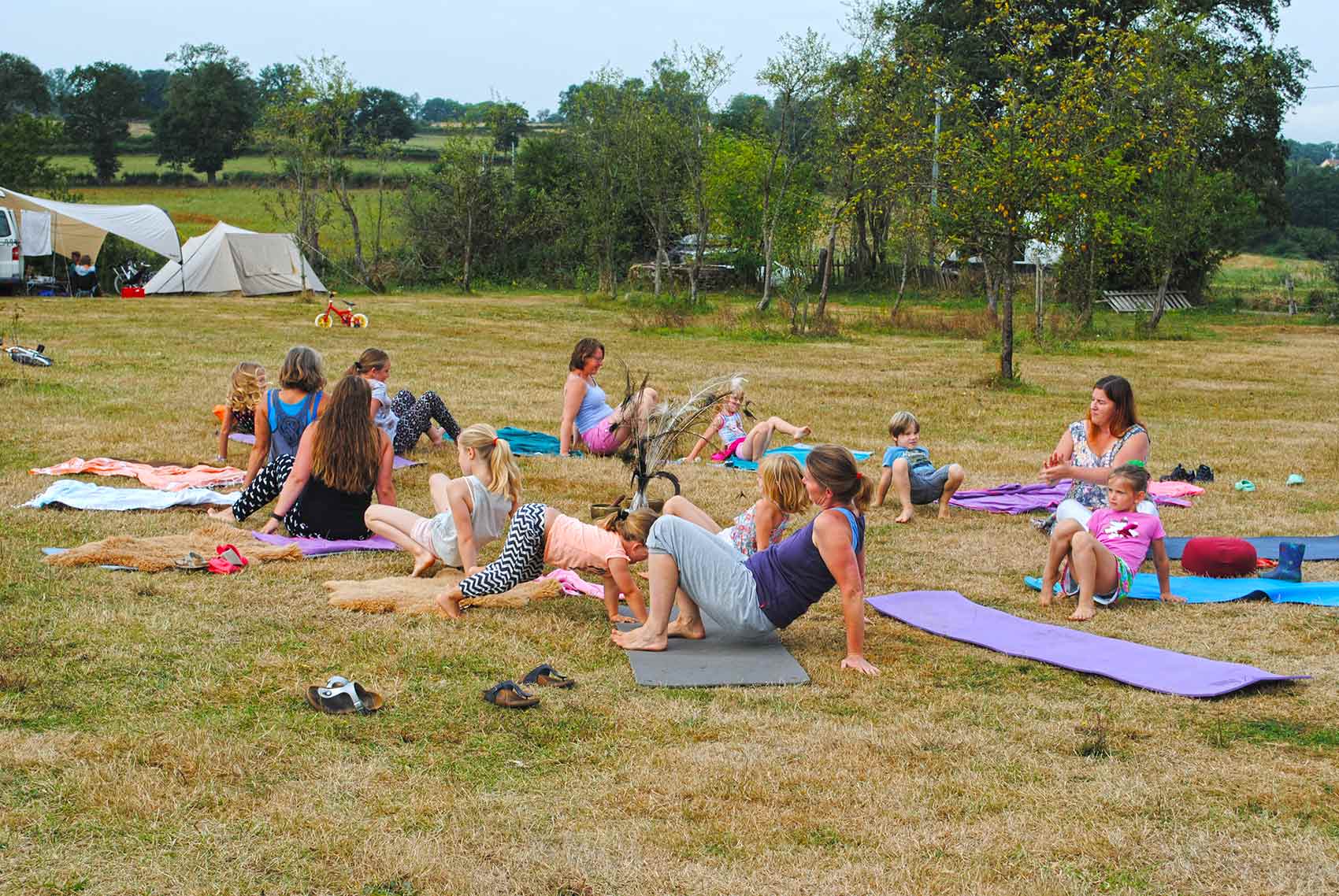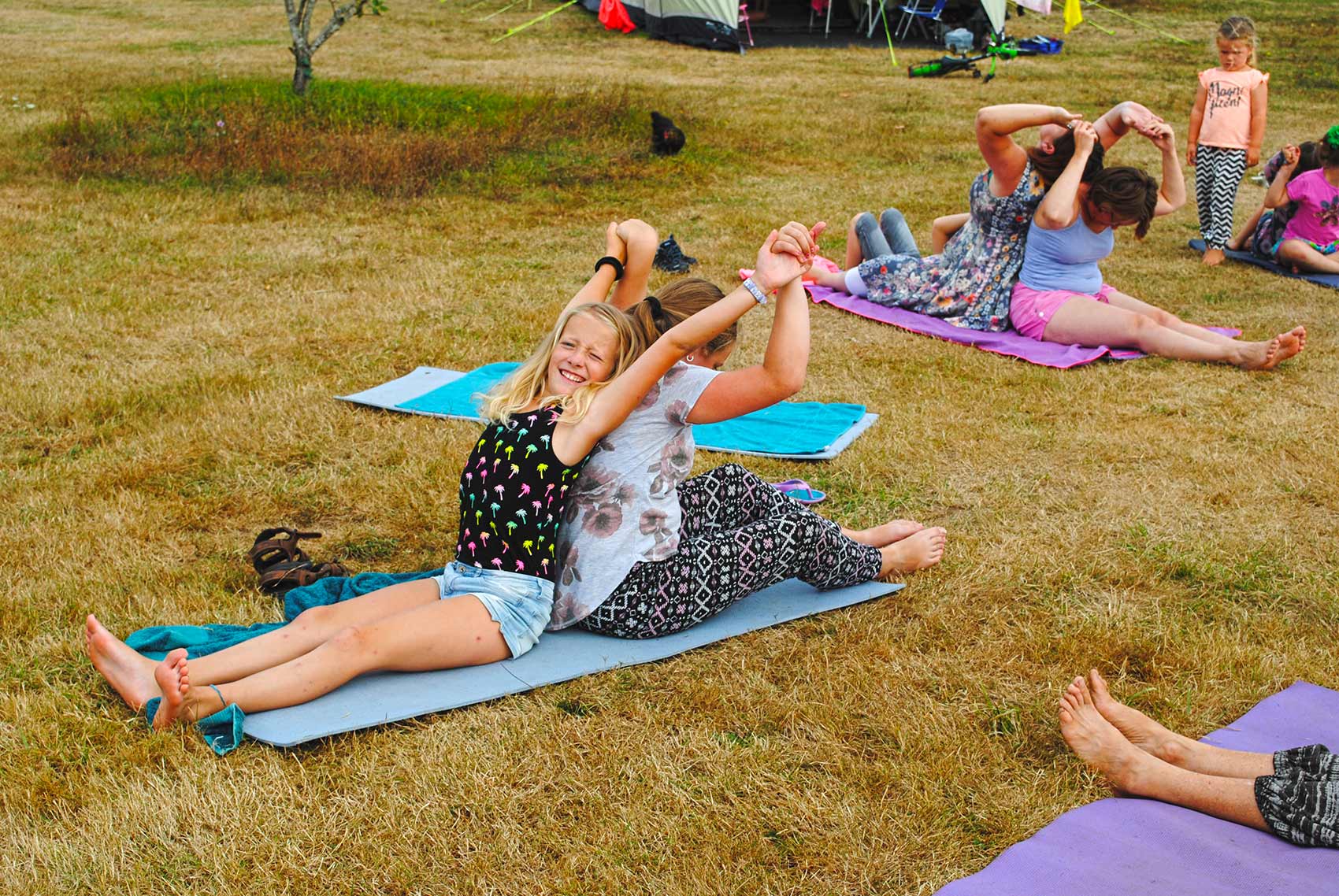 Yoga for all
The exercises are accessible to all, each practice within the limits of their possibilities. Classes are outside if the weather permits. It is a unique experience of integrating the sounds, smells and sensations of the surrounding nature into the yoga experience. The lesson ends with a relaxation, during which Tibetan singing bowls are used.
Yoga for children 
Lily offers children a playful yoga lesson inspired by animals, camping and the surrounding nature. The lesson lasts about three quarters of an hour. Suitable for children from 4 years old.  Teenagers can participate in adult classes.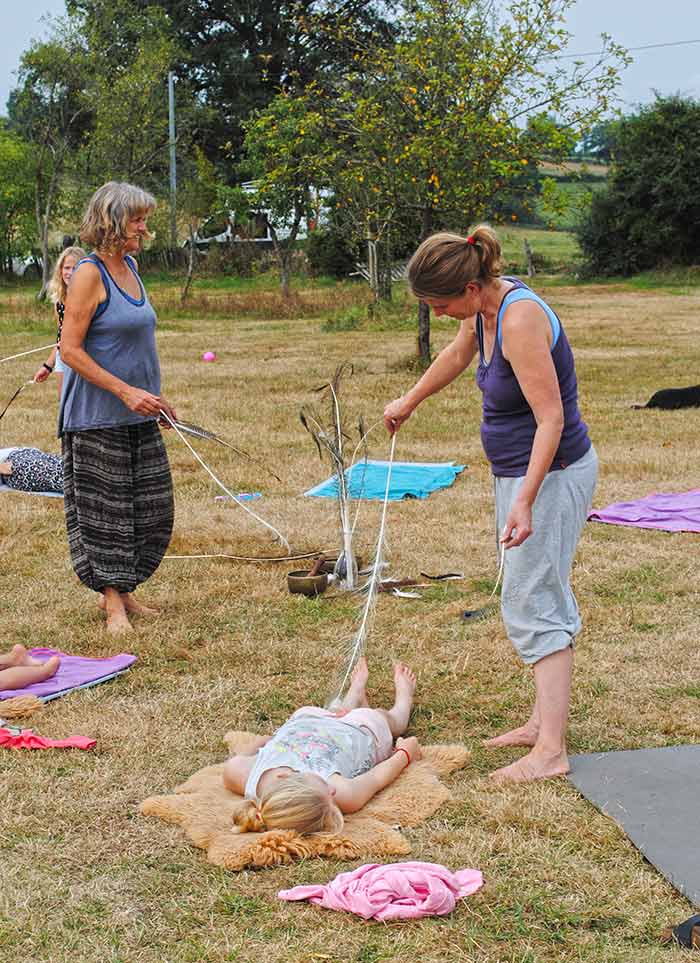 Mariken 't Sas
"I am aware of the beneficial effects of Hatha Yoga for a long time. In 2006, I felt the need to deepen my knowledge and started a teacher training at the Y.A.N. in Amsterdam.
Arriving in France in 2008, I continued my teacher training in Lyon at the E.F.Y.L. , the Yoga of energy of Boris Tatsky. Since 2014 I do Vipassana Meditation
Nikola Kis and Lily Charot
Nikola (1995) has been studying naturopathy and yoga science in India. He is teaching Hatha Yoga and Iyengar Yoga.
Lily followed a teachers course for hatha yoga in Richikesh in India. She is also a diplomated animatior for children.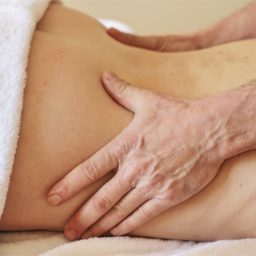 Massage therapist Arno van Haren
"Tightness of the muscles  will release  through this relaxation massage. Stress will be removed from the body so that you relax both physically and mentally and you will be truly unwind. "
New: Lomi Lomi, for ultimate relaxation (90 min)
Arno comes to Brénazet on Monday from 9h30. Make your reservation for a massage during your holidays on the calendar or inform without obligation:
Arno van Haren
Phone / SMS: +33 7 81 48 78 46
Whatsapp: +31 6 24530279
Prices:
60€ per hour
90€ for 1h30
"A week to remember! With 3 children during the May holidays a Yoga retreat with Ron and Mariken. Every day 2 hours of yoga. Loved to sit down at the table in the evening to enjoy the most delicious vegetarian dishes. The children (7 and 5) enjoyed the animals, the adventurous environment and the natural swimming pool. Ron and Mariken are fantastic hosts. We have felt very welcome and seen. The campsite is simple and beautifully situated, really relaxing".

Charlotte
"You can relax in Brenazet without having to do anything for it. Whether you like it or not, you will naturally relax by the beauty of the surroundings, by the warm hospitality of the owners, by the care with which everything is done – from the design of the gites to the delicious vegetarian three-course meals … I enjoyed the daily yoga classes and I really enjoyed sharing my knowledge about dreams in a dream workshop. It remains a special experience when people discover the richness of their own dreams.
Being together with the other guests was on the one hand without obligations and on the other hand very personal and familiar: a perfect balance of meeting and coming back to yourself. It all happened naturally".

Anna Myrthe Korteweg